Residents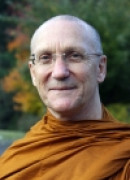 Ajahn Pasanno (Guiding Elder)
Ajahn Pasanno took ordination in Thailand in 1974 with Venerable Phra Khru Ñāṇasirivatana as preceptor. During his first year as a monk he was taken by his teacher to meet Ajahn Chah, with whom he asked to be allowed to stay and train. One of the early residents of Wat Pah Nanachat, Ajahn Pasanno became its abbot in his ninth year. During his incumbency, Wat Pah Nanachat developed considerably, both in physical size and reputation. Spending 24 years living in Thailand, Ajahn Pasanno became a well-known and highly respected monk and Dhamma teacher. He moved to California on New Year's Eve of 1997 to share the abbotship of Abhayagiri with Ajahn Amaro. In 2010 Ajahn Amaro accepted an invitation to serve as abbot of Amaravati Buddhist Monastery in England, leaving Ajahn Pasanno to serve as sole abbot of Abhayagiri for the next eight years. In spring of 2018, Ajahn Pasanno stepped back from the role of abbot, leaving the monastery for a year-long retreat overseas. Though he plans on returning after this time to continue as an anchor of wisdom and guidance for the community, the monastery will remain in coming years under the active leadership of co-abbots Ajahn Karuṇadhammo and Ajahn Ñāniko.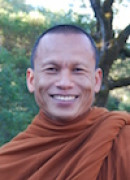 Ajahn Sek (Seksan Varapañño)
Ajahn Sek was born in 1973 in Yasothon province in northeastern Thailand. As a child, he had questions such as, "why are we born?," "what are we living for?," and "where are we heading to?" Growing up, he felt he didn't really know himself. After reading the biography of senior teachers in the Thai Forest Tradition, he decided to go forth as a monk. He took full ordination in the year of 1998 in Yasothon province with Phra Khru Uttarakijkosol as his preceptor. Ajahn Sek then stayed and practiced at Wat Nong Pah Pong and other branch monasteries, and holds Luang Por Liem Thitadhammo as his main teacher. Today, Ajahn Sek feels that this path may lead him to answering his childhood questions. He is grateful for his teachers and monastic communities who have been supporting him on the way. Ajahn Sek's favorite Dhamma reflection is: "however many victories you win, they can't be compared to winning your own heart."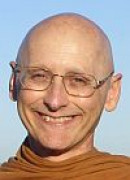 Ajahn Karuṇadhammo
Ajahn Karuṇadhammo was born in North Carolina in 1955. He was trained as a nurse and moved to Seattle in his early twenties where he came in contact with the Theravada tradition. In 1992, he helped out with a monastic visit to the Bay Area and spent two months serving a winter retreat at Amarāvati Monastery in England. Ajahn Karuṇadhammo made the decision to ordain while visiting Thailand in 1995. He asked if he could be part of the prospective California monastery (the then unnamed Abhayagiri) and was part of the original group that arrived at Abhayagiri on June 1, 1996. After training for two years as an Anagārika and Sāmaṇera, he took full Bhikkhu ordination in May, 1998 with Ajahn Pasanno as his preceptor. Since Ajahn Pasanno stepped back from his leadership role in 2018, Ajahn Karuṇadhammo and Ajahn Ñāniko guided the Abhayagiri community as co-abbots for two years. In June 2020, Ajahn Karuṇadhammo is stepping back from his administrative duties at Abhayagiri and is spending the vassa at the Pacific Hermitage. At some point after the vassa, Ajahn Karuṇadhammo plans to return to Abhayagiri and to enter a period of retreat.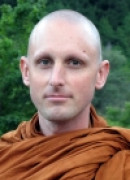 Ajahn Ñāṇiko (Abbot)
Ajahn Ñāṇiko was born and raised in California. In 2001, at the age of 20, he visited Abhayagiri and decided to request anagarika ordination. In 2002 he took novice ordination, and in July 2003 he was ordained as a bhikkhu. He received his basic training from Luang Por Pasanno and Luang Por Amaro at Abhayagiri, and has also spent over six years training in Thailand. Since Ajahn Pasanno stepped back from his leadership role in 2018, Ajahn Karuṇadhammo and Ajahn Ñāṇiko have guided the Abhayagiri community as co-abbots.
As of June 2020, with Ajahn Karuṇadhammo stepping back from his administrative duties, Ajahn Ñāṇiko is now serving as the abbot of Abhayagiri Buddhist Monastery.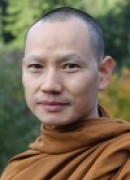 Ajahn Kassapo
Ajahn Kassapo was born in Vietnam and raised in Guangdong, China. Beginning in 1998, he lived in the Los Angeles area, where he became interested in Buddhism. After visits to various monasteries, he decided to explore monastic life. He was a member of the lay support team during Abhayagiri's 2005 Winter Retreat, during which time he decided to request to undertake the Anagārika training. He returned to Abhayagiri in May, 2005 and subsequently trained for two years as an Anāgārika and Sāmaṇera. Ajahn Kassapo received the higher ordination, becoming a fully ordained Bhikkhu on July 14, 2007 with Ajahn Pasanno as his preceptor. After spending a year training in Thailand, he returned to Abhayagiri in 2010.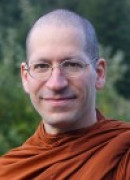 Ajahn Cunda
Ajahn Cunda was raised in a warm and loving family in the suburbs of Northern Chicago and moved to California in 1996. His interest in Buddhism began in high school, continued in college, led him on a spiritual search to Asia, and eventually drew him towards Theravāda meditation practices. It was not until he first came into contact with the monks of Abhayagiri, however, that he understood how monastic training could lead to a life of wisdom, peace, and profound satisfaction. Ajahn Cunda headed for Abhayagiri in late 2005, and after two years as an Anagārika and Sāmaṇera, ordained as a Bhikkhu on May 22, 2008. Under Luang Por Pasanno and Ajahn Amaro, he trained at Abhayagiri for eight and a half years. In 2014, Ajahn Cunda moved to Tisaraṇa Monastery in Canada, to practice under the guidance of Luang Por Vīradhammo. He departed for a slightly more nomadic life in 2017, living in several western monasteries, including Bodhivana and Dhammagiri in Australia, Chithurst in England, and Santacittārāma in Italy, before returning to Abhayagiri in early 2020.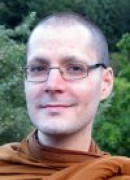 Ajahn Ṭhitapañño
Ajahn Ṭhitapañño was born in 1983 in Washington, DC and spent much of his childhood in the surrounding suburbs. While in college he developed an interest in spirituality and began to meditate daily and attend meditation retreats. After college, he decided to pursue his spiritual aspirations by becoming a lay resident at the Bhāvanā Society Forest Monastery and Meditation Center in West Virginia. After living at the Bhāvanā Society for a little more than a year, he decided to explore his interest in monastic life by visiting different monasteries. Upon arriving at Abhayagiri, he felt he had found the right place. At Abhayagiri on June 13, 2009, with Luang Por Pasanno as the preceptor, Ajahn Ṭhitapañño was accepted into the bhikkhu sangha.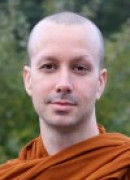 Tan Pesalo
Tan Pesalo was born in Japan and grew up in South Pasadena, California. While at university, he chanced upon a book about Buddhism on a friend's bookshelf. The teachings resonated deeply and he has been meditating ever since. After graduating, Tan Pesalo accepted an invitation from a friend to travel to Thailand and, knowing nothing of the country's rich Buddhist culture, thereby discovered the Thai Forest Tradition. He has since spent time at Buddhist monasteries in Thailand, England, and North America. After training for a year as an Anagārika and approximately a year as a Sāmaṇera, Tan Pesalo was ordained as a Bhikkhu on June 2, 2012 with Ajahn Pasanno as his preceptor.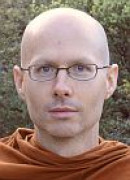 Tan Khantiko
Tan Khantiko was born in 1979 and raised in Nashville, TN. After graduating from the Graduate Theological Union/Institute of Buddhist Studies in Berkeley, CA, he decided to pursue monastic training and arrived at Abhayagiri in December 2012. He went forth as an Anāgārika on May 5, 2013, took Sāmaṇera ordination on May 17, 2014, and took the full Bhikkhu precepts on June 9, 2015.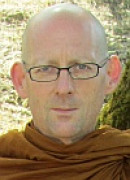 Tan Koṇdañño
Koṇdañño Bhikkhu went forth as an Anagārika on May 17, 2014, took Sāmaṇera precepts on June 9, 2015 and took full Bhikkhu precepts on June 5, 2016.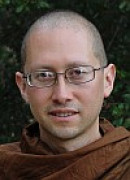 Tan Jāgaro
Tan Jāgaro was born in Southern California in 1974. He began Buddhist practice in 2004 after attending a few Goenka-style retreats. Inspired by the Pāḷi Canon and the teachings of masters like Ajahn Chah, his confidence in the Dhamma increased over the years. After the death of his father in 2012, he asked himself, "I'm going to die soon; what is most important in life?" Following the recommendation of a friend, he first visited Abhayagiri in October 2012. He served the 2014 Winter Retreat and subsequently took Anagārika ordination on May 17, 2014. He went forth as a Sāmaṇera on June 9, 2015 and took full Bhikkhu precepts on June 5, 2016.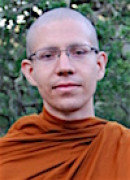 Tan Guṇavīro
Tan Guṇavīro was born in 1982 in the Los Angeles area. In 2002, he began meditating after taking a meditation course in the tradition of Sayagi U Ba Khin as taught by S.N. Goenka. He then continued to practice and serve meditation courses in that tradition. He worked in advocacy, government, and international development before returning to graduate school and receiving a PhD in economics. Toward the end of graduate school, he began seriously considering the monastic life as the most effective way to reduce suffering in the world and in himself. He ordained as an anagārika on May 7th, 2016, went forth as a Sāmaṇera on May 6th, 2017, and took full Bhikkhu precepts on May 13, 2018.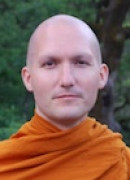 Tan Tissaro
Tan Tissaro was born and raised in the quaint southern town of Fairhope, Alabama. The son of Eugenia and Robert Normand, he and his two siblings were raised in a household of loving support and encouragement. The gift of a strong family unit helped give him a foundation of confidence and courage that has proven invaluable as he has embarked upon his journey from chasing satisfaction in the world of endless material pursuits to seeking a deeper contentment and peace of mind within himself. This led him to vipassana meditation courses taught by S.N. Goenka. After five years of practice and service among various California centers he stumbled across Abhayagiri and immediately felt at home. He is incredibly grateful to have found such a wonderful community and for the support he has received from friends and family in beginning this new phase of his life. Tan Tissaro took Anagārika ordination on May 7th, 2016, went forth as a Sāmaṇera on May 6th, 2017, and took full Bhikkhu precepts on May 13, 2018.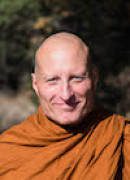 Tan Rakkhito
Tan Rakkhito was born in 1961 in New Jersey. He lived most of his adult life in Oregon. As a young man he was drawn to the samana life he found in books, but at the time he was not able to follow that path. Many years later, after a life in the world, a timely reading of Bhikkhu Bodhi's In the Buddha's Words inspired him to once again explore monasticism. He found accord with the beloved and respected teacher Luang Por Pasanno, along with the Dhamma-rich Thai Forest Sangha. Tan Rakkhito took Anagārika precepts in November 2016, went forth as a Sāmaṇera in November 2017, and took full Bhikkhu precepts on November 4, 2018.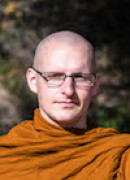 Tan Cittapālo
Tan Cittapālo was born and raised in the state of Maine. He first encountered Buddhism in 2011 during his gap year in Thailand. After reading Food for the Heart, Tan Cittapālo made his way to Abhayagiri, where he found a deep connection with the community and practice. Tan Cittapālo took full Bhikkhu ordination on August 25th, 2019, with Ajahn Pasanno as his preceptor.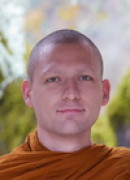 Tan Jotimanto
Tan Jotimanto spent the majority of his life in Oregon, where he was born in 1990. In 2009, he enrolled at Linfield College in McMinnville, Oregon. He double-majored in Mathematics and Creative Writing (with no particular goal in mind, other than to harness the faculties of his intellect that were concomitant to those disciplines). In a turn of events that, to him, seemed to be nothing less than cosmically serendipitous, he encountered his first Dhamma talk on YouTube during his junior year of college. After a year of personal Dhamma study, he decided to practice meditation on a whim. After several months of meditation practice, he developed the firm resolve to ordain. Thus, after graduating from college, he got a job at the Safeway in his hometown, and by living with his parents, practicing restraint, and funneling all of his available income into his student loans, he was able to pay off his debt - working a part-time, minimum wage job. With all of his debts paid, he headed straight to Abhayagiri. Tan Jotimanto took Anāgārika ordination in 2017, Samanera ordination in 2018, and was accepted into the Bhikkhu Sangha on December 2, 2019.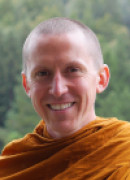 Tan Dhammavaro
Born in 1987, Tan Dhammavaro grew up in a supportive environment near Austin, TX. After completing his bachelor's degree and experiencing some reluctance to further pursue education or a career, he was drawn to travel in Asia. While in India, he attended his first vipassanā course, taught by S.N. Goenka. After a few years of serving and practicing within this tradition, he was given the opportunity to act as an attendant to a senior monk. Moved by the monk's embodiment of Dhamma, he felt compelled to explore monasticism and feels fortunate to be able to continue this pursuit. Tan Dhammavaro went forth as a Sāmaṇera in April 2019, and was accepted into the Bhikkhu Sangha on May 17, 2020.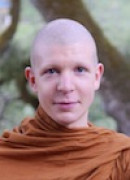 Sāmaṇera Candasīlo
Sāmaṇera Candasīlo was born in the state of Washington, spent his elementary school years in Long Island, New York, and went through middle school and high school in the northwest suburbs of Chicago. During his time as an undergraduate at university, he read about the teachings of the Buddha and developed a strong connection with the Dhamma and an interest in the monastic vocation. He started to attend a local meditation group, where he was introduced to the Thai Forest tradition and was fortunate enough to meet a monk from Abhayagiri. He traveled to Abhayagiri for the first time in May, 2016 and spent ten days there, coming again for two more stays in the fall of 2017. He returned again in May, 2018 with the intention to undertake monastic training, in order to create the best possible conditions for purifying his heart, realizing the truth, and finding true happiness. Sāmaṇera Candasīlo went forth as a novice monk on August 23, 2019.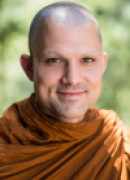 Sāmaṇera Yasa
Born in 1987, Sāmaṇera Yasa grew up in Burbank, California. At the age of nineteen, after reading a book on Buddhism which was given to him by his mother, he undertook a three-month stint living and working at a Buddhist Meditation retreat center in Northern Colorado. After participating in silent meditation retreats and living and working at different Buddhist retreat centers, Sāmaṇera Yasa became interested in living a monastic life. Fortunately, a monk he met on retreat recommended Abhayagiri. He went on to serve the 2012 winter retreat at Abhayagiri and shortly after, on April 28th, 2012, he went forth as an Anāgārika. In living at Abhayagiri as an Anagarika for over a year, he found that he was not quite yet ready to further pursue monastic training. Returning to life outside of the monastery, he spent time in residence at Insight Retreat Center, Santa Cruz, while studying as a full-time student at the nearby Cabrillo College. At this point, thoughts of returning to monastic life had already begun to resurface. After transferring to UC Berkeley, and completing a BA in South and South East Asian Studies, he became motivated to re-explore Buddhist monasticism. Feeling more primed and prepared to again enter the monastery, with a greater respect and appreciation for the care, support, and structure which Abhayagiri offers, he arrived back at Abhayagiri in October 2018. After going on to serve the winter retreat of 2019, he re-ordained as an Anāgārika on April 27th, 2019. Sāmaṇera Yasa went forth as a novice monk on May 6, 2020.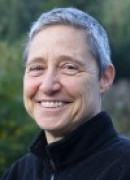 Debbie Stamp
While traveling in Nepal, Tibet and Thailand in 1987, inspired primarily by the devotion witnessed in the Tibetan people, Debbie took her first retreat in Thailand, hoping to learn a little about Buddhism. Passing through England on her return to the USA, she visited Amaravati Monastery and spent almost a full year between Amaravati and Chithurst monasteries, gaining a bit more understanding of this path. Involved with the Sanghapala Foundation since its inception, she moved to the monastery in 1998, initially living on the neighbors' property which was, in turn, offered to the monastery in 2002.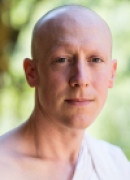 Anagārika Aaron
In 2004, at the age of 19, Anagārika Aaron arrived at Abhayagiri and took up monastic training with Luang Por Pasanno and Luang Por Amaro, ordaining as a Bhikkhu in 2007. He was then known by the name of Ṭhitābho. In 2015, after eight years as a Bhikkhu, Aaron made the decision to leave the robes and return to lay life. He returned to Abhayagiri in 2020, feeling inspired to re-ordain as a Bhikkhu and continue his practice in an increasingly dedicated and focused manner. Aaron went forth as an Anagārika on May 6, 2020.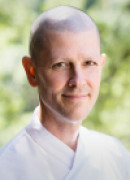 Anagārika Dave
A photojournalist for 15 years, Dave developed a stubborn discontent with human existence and sought solace in a range of spiritual and metaphysical genres. After taking a 10-day Vipassana course in 2016, he left his career and spent two years serving at meditation centers in the S.N Goenka tradition, hoping to exchange his camera lenses for the lens of Samadhi. During that time, he was fortunate to learn of the Thai Forest monastic lineage of Ajahn Chah and to be introduced to a monk from Abhayagiri. He first visited the monastery in August 2018 and then volunteered on successive winter retreats. Born to a Christian family on Christmas Day 1975, Dave got the auspicious opportunity for a religious re-birth on "Buddha Day" 2020, joining the monastic community as an Anāgārika under the full moon on Vesakha Puja - the holiday commemorating the birth, death and Awakening of Siddhattha Gotama. In these times of great uncertainty, he's grateful to have found solace in the practice of harmlessness with the Abhayagiri community.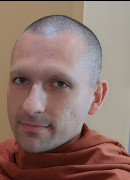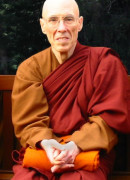 John Smith
John Smith was born in 1980.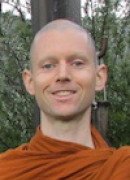 Tan Sampanno
Tan Sampanno was born in 1986 and raised in Michigan and Missouri. While attending Indiana University, he encountered the Buddha's teachings and the practice of meditation and found a completely new direction. Continuing to practice during his college years, he realized that devoting himself to these pursuits would be the most beneficial and meaningful thing he could do with his life. After graduation, an affinity with the Mahayana and Zen Traditions led him to South Korea and ordination as a monk at Songgwang-sa Monastery. During his seven years of practice in Korea, as he became interested in studying the Pali Cannon and living a monastic life based on the Vinaya, he was fortunate enough to encounter the Ajahn Chah tradition. After being inspired during a short visit to Abhayagiri, he returned and changed monastic affiliations, ordaining as a Sāmaṇera at Abhayagiri in November of 2016. He took the full Bhikkhu precepts on June 17, 2017.
Tan Sampanno is currently spending one year at Temple Forest Monastery in New Hampshire.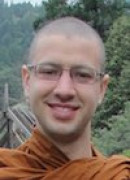 Tan Suddhiko
Born in 1986 and raised in Boulder, CO, Tan Suddhiko was introduced to Buddhism at a young age and was always interested in what happens after death. Influenced by his older sister, he started meditating at age 20. Sometimes it takes a perfect storm for someone to commit to monasticism and he had the right combination of privilege and dukkha. During a life transition of going back to graduate school, he stopped at Abhayagiri for a 3 week stay and decided that pursuing ordination was more important than anything he could learn in school. His aspiration in becoming a Buddhist monk is to live a life that has the maximum amount of positive impact on the world, while causing the least amount of harm. Tan Suddhiko took the Anāgārika precepts on August 7, 2015 and went forth as a sāmaṇera on June 5, 2016. He took the full Bhikkhu precepts on June 17, 2017.
Tan Suddhiko is currently in Thailand.